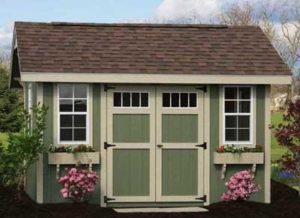 Typically, when people think about sheds, images of a man working with his tools and lawn equipment comes to mind. This stereotype is being broken, though. In recent years, a popular trend has begun for women to create she sheds. These sheds are centered on providing women of the house an escape from their daily tasks in a location that is not necessarily connected directly to a house. She sheds can be used for many reasons, and there are a few benefits to having access to one.
They Can be Used for Any Purpose
In many cases, women might create an office space within their homes to act as a sanctuary of sorts. However, these offices are impractical for some women's hobbies. This statement is particularly true for women who paint, where a lot of ventilation might be needed. At the same time, female gardeners might find that they benefit from having one of these spaces outdoors, too. There is one, essential reason to go to a she shed, though. It provides utmost privacy, and it gives a woman a chance to remove herself from the demands of the home completely for a while. The people at Sheds Unlimited have a wide variety of sheds to pick from that will fit any of these needs with ease.
They Can be Cheaper than Renovating a Room
When a woman decides to carve out a space for herself inside of the home, a workspace needs to be cleared and, in many cases, a renovation might be in order. For example, clearing out a storage room and converting it into an office can lead to a lot of decluttering and cleaning, even if all the new office space itself needs is a coat of paint. Sometimes, windows and flooring might need to be redone. Depending on what goes on in an office, the electrical outlets might need to be relocated throughout the room.
All this renovation takes a lot of time and money. She sheds can be a cheaper alternative to this problem. Most sheds can be purchased for relatively little price, and they can come already fabricated. In short, they just need to be set on their foundation and attached to electric or water supplies, if need be.
They Offer More Control of the Space
Offices in homes often can be accessed by other people living in the home with ease. More often than not, things can be moved out of place or can go missing altogether with this being the case. Therefore, having a she shed prevents people from going out into that space and taking something without asking for permission first. At the same time, a she shed allows a great bit of privacy to the woman using it. She can go and lock herself away, if she so pleases.
Conclusion
There are a few reasons why women might want to go with a she shed, but the ease of installation and low cost might be enough enticement to consider going with one of these structures instead of doing a renovation in the home for an office. At the same time, it offers a sense of peace and quiet that only comes with privacy.